December 27th, 2021
In between checking my Facebook pages, or by email, I'm always drawing or painting something. Lately, that means I'm playing around with the "Harmony" art and drawing tool in my chrome browser. It's proven to be my sketching tool of choice, as it's easily able to capture my fastest sketches and add marvelous effects that would otherwise take me hours to add.

I'm not sure if I like the shadow or the web brush better. I think all of the tool options are amazing. I even used the "square" tool to add a Bedouin tassel or two to one of my Arabian horse sketches. It turned out wonderfully! This small, Chrome add-on is a blast to play with.

After attending the Picasso exhibit in Seattle, I was hoping to be able to create new, and less "tight" artworks. The Harmony tool has certainly enabled me to work on loose and flowing lines in ways I'd not thought of before. I hope you try it out and post your experiences.

Follow me on Instagram as "awhitehorse"!
April 28th, 2020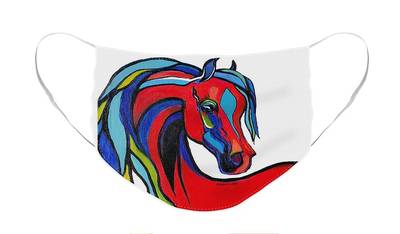 Our family is staying home and being careful, probably just like yours. We're taking Benjamin for little walks to be sure we're all getting enough sunshine. He was hyper-alert to our local playground equipment displaying caution tape as we walked by, and some of our neighbors wearing masks.

As you may know if you've been following us, our four year old grandson has Pulmonary Arterial Hypertension, (PAH), and Ben has frequently been in the hospital. He's familiar with masks.

I felt him clutch my hand tightly, and stop in his tracks, as we watched our neighbor go by with a mask covering her face. He continued to watch her as she passed out of sight with her little dog beside her. What must he be thinking?

It would help if we could see more friendly masks that communicated "happy thoughts". The caregivers at Seattle Children's pay special attention to how their apparel looks to the kids. Something cheerful, in bright, pretty colors and themes are found everywhere at Seattle Children's.
Working on a new design late into the night, suddenly, something new appeared at Fine Art America; the option to put my artwork on masks. It was a brand new product they'd been working on for just this moment.

My artwork is sure child friendly, and kids naturally react with smiles. This was just what I was looking for! More than just tee-shirts and coffee mugs, now my dancing horses, lively and colorful animals can go on masks!

Thank-you to Fine Art America for helping our artistic community's desire to share our beautiful drawings and paintings in this unique way during the 2020 COVID19 crisis.

Benjamin says he likes my horses with bright colors, best.
April 19th, 2020
The Friesian horse breed's black coat can be a challenge to paint, and truly convey the energy of the play of light across the always moving horse. The twilight blues, mirrored silvers, and occasional red reflections, dazzle the eye in bright light. Plus, the Friesian breed is so distinctive; echoes of the Friesian's face is also seen on foundation Morgan horses; clear evidence of their influence on many early American Colonial horses.

I was fortunate to see Friesian horses in Washington State many years ago, and remarked on their beautiful, distinctive faces. Obviously, their hair overflows their face like few other breeds, and their lofty trot speaks of generations of noble breeding. Such a wonderful gathering of Iberian and Arabian influences have earned their place as a popular fine harness and modern riding horse.

Thanks to my friends in Texas, Lisa and Ron Robertson, for sharing many photos of their beach rides with Friesian horses. Endless inspiration!
April 15th, 2020
I always enjoy drawing wonderful, fast sketches of horses. This drawing is of a Thoroughbred or Arabian fantasy race horse. I grew up reading issues of the Thoroughbred of California, and The Maryland Horse magazines, among several other favorite horse racing and breeding magazines.

Racing is still one of my favorite sources for equine art inspiration. I love the excitement, the colors, the sounds of the track, and the people! I'm looking forward to creating more race horse paintings in color, and sketches like this one, as the basis for a new group of art. You may find this drawing in my main paintings gallery. This colorful horse racing across the page is ready to gallop into your home or office.
February 22nd, 2020
Seattle winters typically have long stretches of rain, and skies of endless grey, for several weeks at a time. Some bright lively colors are a good prescription for late winter doldrums. In anticipation of our late winter's hasty turn into spring, with daffodils and camellias soon to appear, I created, "A Winter Fire Arabian Horse" to add color to your mental gardens. Three bright and sunny days in a row just rescued us from the Pacific Northwest's long weeks or rainy weather! May my colorful contemporary Arabian horse art add joy to your wardrobe and walls this spring.
November 11th, 2019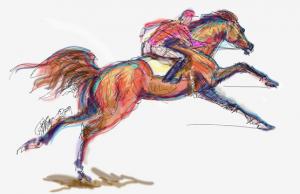 You can make all kinds of friends on Facebook, but few of them will make such an impact on your daily outlook on life, as Julie June has made on mine.

She writes about her adventures experienced while caring for her aging father, and in the process, she takes us along with her. We are touched by her kindness, frustrations, and understanding of his stage of life. Her stories touch us.

Miss Julie June also writes wonderful essays about the personalities and horses in the American Thoroughbred scene. We feel everyone's hopes and dreams fly down the track as she describes their world, bringing us into each moment.

Her essays are eagerly anticipated by racehorse breeders, fans, and trainers, all across America. We know when Julie June tells the story, our hearts will move down the track with each bright color, and follow every flying tail.

Here's my dedication to my favorite woman in the horse racing world. Julie June is a loving daughter, a wonderful writer, and a treasured Facebook friend. May my horse carry your praises to an ever-expanding audience.
November 6th, 2018
I keep going back to my cell phone, and my tablet, to continue to explore the amazing capabilities of various drawing apps that appear on the Google marketplace. I still enjoy playing with, "Sketch Guru", and I'm relieved my old tablet can still use it. It isn't compatible with later model of my Galaxy phone, and I miss having it there. I have used other apps, but this one, is truly faster for me to use.

I'm also currently painting several new acrylics on canvas, to bring with me to Tacoma for the BrillenEyes - HOYA invitational art presentation. There's nothing like having an event on the books to keep you painting. It sounds like I'm going to have a wonderful time there, as they are so glad to be presenting our artwork there.

To stay up to date with what I'm currently working on, please sign up for my newsletter.
November 4th, 2018
This year's Washington Horseman's Park Annual Gala Event auction fundraiser, will include my original contemporary acrylic painting, "Unbridled Horses", (18 x 24) as a 100% donation to the event. A new, state of the art facility, the equestrian park is close to realizing the dream of building a spectacular indoor arena as the show piece for the 112 acre facility.

When I was a young woman, my best friend and I would look forward to attending horse shows at Bridle Trails State Park, near Kirkland, WA. A lovely outdoor facility, you were smart to arrive early, if you were to watch the hunter jumper classes in decent bleacher seats - meaning the few seats available in the shade of the pine trees on the West side. As time went on, Bridle Trails became surrounded by upscale homes back to back, and fewer horse properties.

Snohomish County also tried to fund and maintain a horse show facility in Monroe, WA, at the large and popular fairgrounds there. Unfortunately, their new horse show arena was quickly appropriated for indoor motorcycle events. With the car racing track, right behind the arena, it wasn't always a happy situation. The use of the arena by equestrians, and the nextboor car racing events, still share the popular venue, that has admirably shuffled dates to meet the needs of all concerned.

Washington State equestrians smartly obtained a suitable parcel of land for a grand horse park; suitable for International events, permanently dedicated to all equestrian sports centrally located in Cle Elum, WA. Placed safely past the seasonal rain curtain of Western Washington, the Horseman's Park boasts open access to miles of trails via adjacent National Forest lands.

We'll be looking for you in future years at the expansive equestrian facility being realized near Cle Elum, among the big pines. My contemporary equine art donation is in remembrance of the summer horse shows I attended with my best friend, so many years ago.

November 2nd, 2018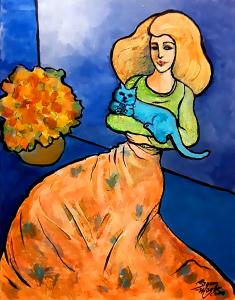 Correctly depicting equine structure, even when it's in a loose, modern style, may be my passion, but I also love to sketch people; such as this reclining woman, holding her "blue" cat'. She's resting against a wall, as if she's finally succumbed to the entreaties of her sweet, purring cat. We have a long haired, grey kitty in our home, that was a very happy model for my small painting. I've added a vase full of flowers, just because I wanted to play with more colors.

Currently, my acrylic painting, "Lady with Blue Cat" is available, and I've started on several other figurative acrylic works, as well. I especially enjoy depicting colorful fabrics, and diverse cultural scenes. Because of my interest in fabrics and patterns, I love including interesting fashions and designs in each scene, sometimes, even adding actual portrions of fabric. Stay tuned!
May 23rd, 2018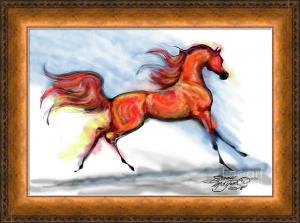 This painting began as one of my black and white drawings, appearing in Arab Horse Couture Magazine. It quickly became one of my most popular images to steal, and use as a horse business logo. After chasing after the folks using my images without permission, from here to Iran, South Africa, and Saudi Arabia, I have learned my lesson; I won't be posting anymore black and white images! I'm currently in the process of changing every one of my images into a full color version of my popular black and white originals.

My next effort, will be in creating more full color acrylic paintings, to post here, as well. They will be based upon full color drawings I first shared on my Instagram account. This method has shown me which images are the most appealing, and will make the selection for creating fine art prints much easier.

I hope you enjoy this new, colorful version of "Stacey's Arabian".