May 23rd, 2018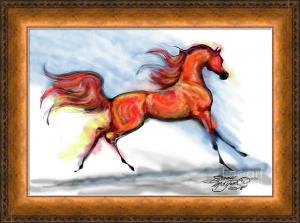 This painting began as one of my black and white drawings, appearing in Arab Horse Couture Magazine. It quickly became one of my most popular images to steal, and use as a horse business logo. After chasing after the folks using my images without permission, from here to Iran, South Africa, and Saudi Arabia, I have learned my lesson; I won't be posting anymore black and white images! I'm currently in the process of changing every one of my images into a full color version of my popular black and white originals.

My next effort, will be in creating more full color acrylic paintings, to post here, as well. They will be based upon full color drawings I first shared on my Instagram account. This method has shown me which images are the most appealing, and will make the selection for creating fine art prints much easier.

I hope you enjoy this new, colorful version of "Stacey's Arabian".